There are a few places to visit in Ajmer including the popular tourist attraction Ajmer Sharif Dargah.
The most popular tourist attraction in Ajmer is the Ajmer Sharif Dargah. Renowned throughout the Muslim world as the burial place of Mu'inuddin Chishti, who claimed descent from the son-in-law of Mohammad, seven pilgrimages to Ajmer Sharif are believed to equal one to Mecca. Every year, especially during the annual Islamic festivals of Id and Muharram, thousands of pilgrims converge on this ancient town on the banks of Ana Sagar Lake.
One of the top Ajmer attractions is the Arhai-din-ka Jhonpra Mosque ('Hut of Two and a Half Days') which lies beyond the Dargah in a narrow valley. Originally a Jain college built in 1153, it was partially destroyed by Muhammad of Ghori in 1192, and in 1210 turned into a mosque by Qutb-ud-din-Aibak who built a massive screen of seven arches in front of the pillared halls, allegedly in two and a half days, hence its name.
Other Ajmer tourist places nearby worth visiting are the mazar (tomb) of Bibi Hafiz Jamal, daughter of the saint, which is a small enclosure with marble latticework and the tomb of Chimni Begum, daughter of Shah Jahan, the Mughal emperor.
Once you have seen the Dargah, one of the best things to do in Ajmer is take a walking tour around the bazaar and streets of the old city. It is quite fascinating to watch the daily life of this old town with its shops selling everything from household items to delicious food. The restaurants nearby specialise in mouth watering Mughlai cuisine while the specialty sweet of Ajmer is sohan halwa which is deliciously wicked.
Below is a list of popular places to visit in Ajmer.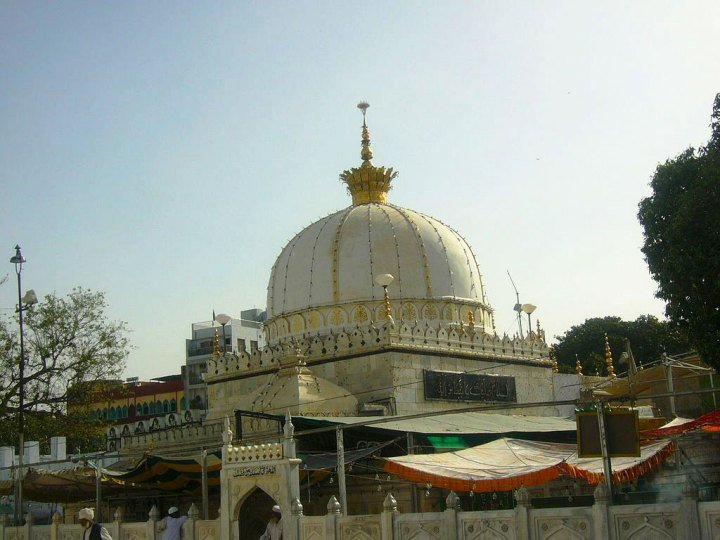 Ajmer Sharif is a Sufi dargah or shrine, dedicated to Khawaja Moinuddin Chishti, founder of the Chishtiya Sufi order in India. The shrine has the tomb of the revered Saint. While the best times to visit the Dargah is during the Urs festival, Muharram or Ramadan, it gets extremely crowded and hard to move around. However, the atmosphere at this time is the best, as the sense of worship and homage to the Saint is as strong as the scent of the sandalwood and perfumes in front of his tomb.
See our Ajmer Sharif article for more information.
Tell us what you think. What attractions are you going to see in Ajmer? If you've been here before, which places did you visit. Please share with us your experiences. 
We love to hear from you so please leave your comments below.