The best places to visit in Madhya Pradesh are the exquisite temples at Khajuraho and the Royal Bengal tiger at Kanha or Bandhavgarh National Parks.
South of Delhi and Uttar Pradesh, in the heart of India, sprawls Madhya Pradesh, a vast landlocked state that contains some of the loveliest untouched vistas on the subcontinent. There are some fabulous places to visit in Madhya Pradesh; however, the two things you really shouldn't leave without seeing are the exquisite temples of Khajuraho and India's most magnificent creature – the Royal Bengal tiger.
Tiger parks are the star attraction in Madhya Pradesh, and your chances of spotting a wild tiger here are very good, but lesser-known treasures abound: Khajuraho's temples display some of the finest temple art in the world and are the architectural highlight of a region scattered with ruined palaces, majestic hilltop forts, ancient Buddhist stupas and India's biggest and smallest mosques.
In the state's rugged north, the most famous Madhya Pradesh tourist places are the deserted yet magnificent palaces of Orchha and the erotic temple shrines of Khajuraho, both of which testify to the power of Rajput dynasties for over a thousand years. Deeper south in the scenic Malwa Plateau, which sees a great deal less tourist traffic, lies the 2000-year-old stupas at Sanchi, one of the finest Buddhist stupa (commemorative cairn) complexes in Asia, and the romantic 15th-16th century citadel at Mandu, an exotic Mughal stronghold. To the east lie Kanha and Bandhavgarh National Parks, the latter with the densest concentration of tigers in India, and thus a magnet for those in search of the Indian safari experience, particularly since African safari specialists &Beyond have teamed up with the Taj group to produce luxury lodges to rival those near Ranthambore National Park in Rajasthan. For the more adventurous, you will love a foray into tribal Chhattisgarh, which split from Madhya Pradesh in 2000 and remains a world far removed from mainstream Indian culture. These Madhya Pradesh excursions will suit those keen to escape the hassle of more obviously tourist-orientated destinations, but they take careful planning to reach.
See below for some of the best places to visit in Madhya Pradesh. 
Khajuraho is home to the Kama Sutra temples of India. The erotic carvings that swathe the three groups of UNESCO World Heritage–listed temples at Khajuraho are among the finest temple art in the world. Visit Khajuraho and be amazed.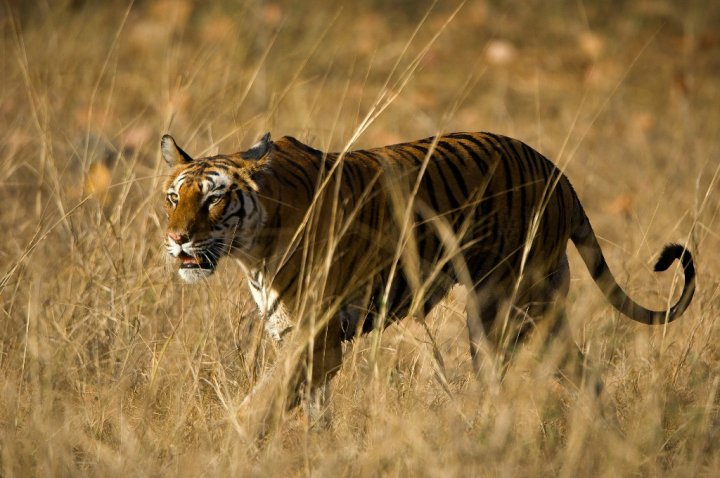 Madhya Pradesh is the king of the jungle when it comes to tiger parks, and Kanha National Park is the most famous and beautiful national park in the country. Go on a safari in Kanha National Park and see the natural beauty of Madhya Pradesh in addition to spotting wildlife aplenty.