A
re you planning a trip to Exmouth? Before you go, read this article for interesting facts about Exmouth and its history. If you're wondering about transport options to Exmouth, read the travel information below. Plus, click through to our Top Things to Do in Exmouth page for great ideas on what to do here.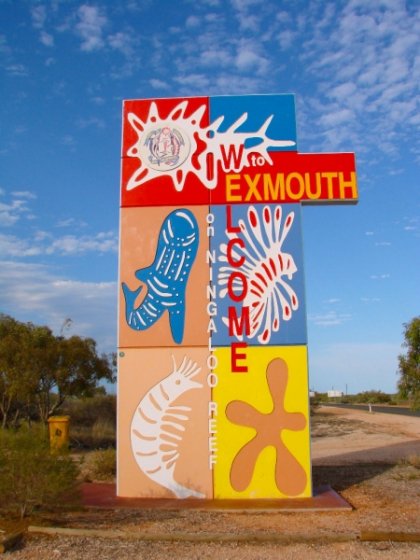 Interesting Facts About Exmouth Western Australia
Exmouth was built in 1967 as a support town to the Harold E. Holt Naval Communications Station, a joint Australian-United States base
Today, the town is a tourist base for visitors heading to Ningaloo Marine Park and Cape Range National Park
The northern tip of the cape still has communication towers which track ocean movements
Exmouth has a thriving prawn industry
There little to do in Exmouth apart from fish and swim and enjoy the wildlife
The best beaches are north of Exmouth at the tip of the North West Cape and on the east coast in Ningaloo Marine Park
Exmouth has some of the best snorkelling, diving, and fishing spots in Western Australia
The best snorkelling spots are Turquoise Bay and Oyster Stacks in Cape Range National Park
The best land-based fishing spots are Learmonth Jetty, Bundegi Jetty and the marina walls
The busiest time to visit is during the whale shark season (from late March to June) and school holidays
Where is Exmouth WA?
Exmouth is located in the northern section of Western Australia. In terms of distance, it is 1,267km north of Perth and 1,370km south of Broome.
How to get to Exmouth?
The easiest and most convenient way to get to Exmouth is to take a flight from Perth. If you care to drive, it will take you about 14 to 15 hours along National Route 1. If you're driving and you have time, the best places to visit along the way are Kalbarri, Monkey Mia and Coral Bay along the Coral Coast.
Exmouth to Perth
Apart from driving yourself, there are two ways to get from Exmouth to Perth and vice versa – by air and bus.
By Air – The nearest airport is located at Learmonth, 37km away from Exmouth town. Skywest Airlines is the only airline that flies daily to Exmouth from other Western Australian towns including Perth.
By Bus – Greyhound Australia has regular bus services from Exmouth to Perth and back. The bus stop is at the visitors centre. There are three services a week to/from Perth.
Self-Drive Option – If you're driving, head along the North West Coastal Highway for panoramic views along the way. Take the turn-off at the Minilya Roadhouse for Exmouth town. This is the best way to explore the cape and national parks.
Exmouth to Broome
The fastest and most convenient way to get from Exmouth to Broome and back is by air. Alternatively, you can choose to drive the 1,370km which should take about 2 days.
Tell us what you think. Are you heading to Exmouth? What are your holiday plans? If you've been to Exmouth before, please share with us your experiences, plus any handy tips or ideas to improve visitors' holiday plans.
We love to hear from you so please leave your comments below.   
Exmouth Map