C
hances are that you're flying into Cairns' domestic or international airport to begin your Great Barrier Reef adventure or you're flying out at the end of your long East Coast trip. For whatever reason you're visiting Cairns, you'll probably want to know a bit about this tourist city, best time to visit, as well as how to get there. If you're planning on staying a while, read our
Top 10 Things to Do in Cairns
page so you can make the most of your trip to this far north Queensland town.
Where is Cairns located?
Cairns is located in far north Queensland, Australia. In terms of distance, it is situated 1,807km (1,120 miles) north of Brisbane and 346km (215 miles) north of Townsville.
Cairns Map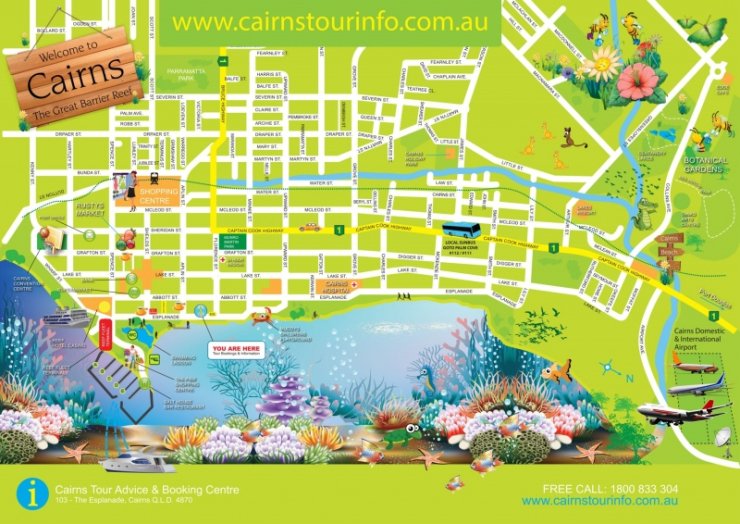 10 Interesting Facts About Cairns
Cairns is the main centre of Northern Queensland
The town of Cairns was created over the site of a sea-slug fishing camp when gold was found to the north in 1876
However, it was the Atherton Tablelands' tin and timber resources that established Cairns and kept it ahead of its nearby rival, Port Douglas
The Cairns harbour is the focus of north Queensland's fish and prawn industries, and tourism began modestly when marlin fishing became popular after World War II
With the "discovery" of the Great Barrier Reef in the 1970s and the appeal of the local climate, tourism snowballed in Cairns
Today, Cairns is most popular as a base for exploring the Great Barrier Reef, the Daintree Rainforest and the Atherton Tablelands
Cairns is awash with bars, nightclubs, eateries and cafes suiting all budgets
The only beach right in town is a man-made 4,000-sq-m (43,000-sq-ft) saltwater lagoon and artificial beach
Despite its beachfront esplanade, Cairns has a city atmosphere and instead of sandy beaches there are mudflats, abundant with native birdlife
If you are spending more than a day or two in the area, consider basing yourself in Cairns' pretty northern beaches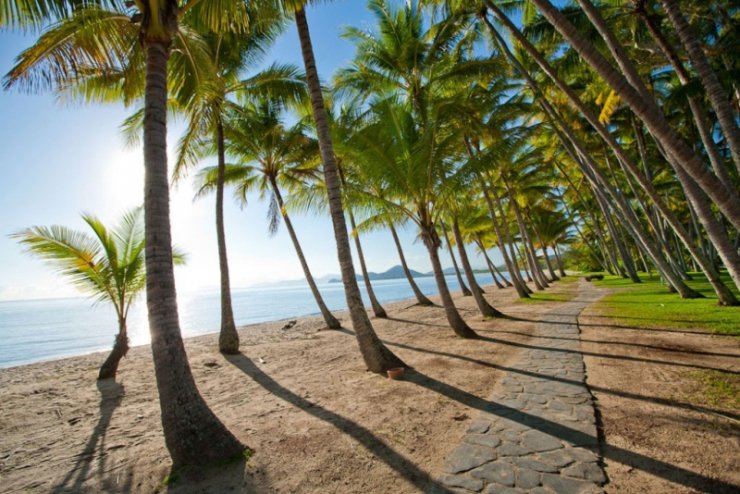 Best Time to Visit Cairns
The best time to visit Cairns is during the winter months of June to August.
Winter (June–Aug) is high season in Cairns; the water can be chilly (at least to Australians) but its temperature rarely drops below 72°F (22°C). April through October is peak visibility time for divers. Summer is hot and sticky across the state.
In Cairns, the monsoonal Wet season is from November/December through to March/April. It brings heavy rains, high temperatures, extreme humidity, and cyclones. But it's no problem to visit then, and the Wet season allows an unusual opportunity to explore this region during a time when it deserves its alternative name: the "Green" season.
Getting to and from Cairns
Most people enter Cairns via the domestic or international airport located 8km north of downtown Cairns. If you're visiting from Brisbane or Port Douglas see below for different ways to get to Cairns from each location.
4 Ways to Travel from Cairns to Brisbane
By Air – Qantas, Virgin Australia and Jetstar has direct flights throughout the day to Cairns from Brisbane.
By Train – Long-distance trains operated by Queensland Rail's Traveltrain run from Brisbane to Cairns several times a week. The 160kmph (100-mph) Tilt Train takes about 24 hours. Northbound trains leave Brisbane at 6:25pm on Monday and Friday. The train features luxury business-class seating, with an entertainment system for each seat, including multiple movie and audio channels.
The Sunlander, which runs four times a week between Brisbane and Cairns, takes 32 hours. Trains pull into the Cairns Central terminal on Bunda Street in the centre of town. The station has no showers, lockers, or currency exchange booths, but you will find 24-hour ATMs outside the Cairns Central shopping mall, right above the terminal.
By Bus – Greyhound Australia buses pull into Trinity Wharf Centre, on Wharf Street, in the centre of town. Buses travel from Brisbane via all towns and cities on the Bruce Highway.
By Car – From Brisbane, you'll enter Cairns on the Bruce Highway.
2 Ways to Travel from Cairns to Port Douglas
By Car – Port Douglas is a scenic 65-minute drive from Cairns, in part along a narrow winding road that skirts the coast. Take Sheridan Street north out of the city as it becomes the Captain Cook Highway; follow the signs to Mossman and Mareeba until you reach the Port Douglas turnoff on your right.
By Bus – A one-way ticket with Sun Palm Australia Coach departs from Cairns airport to Port Douglas hotels. If you are staying in Cairns but taking a Quicksilver cruise to the Great Barrier Reef for the day, you can take a bus transfer to Port Douglas.
There is no train to Port Douglas, and no scheduled air service. A small airport handles light aircraft and helicopter charters.
Tell us what you think. Are you planning a trip to Cairns? If you've been to Cairns before, please share with us any tips and ideas you have.
We love to hear from you so please leave your comments below.